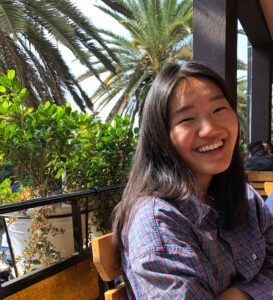 Xinyu Lin, a senior civil engineering major and a BOLD Women's Leadership Network Scholar, hosted "Our Sides on the Outside," a photo story exhibit aimed at exploring the experiences of marginalized people in the environmental movement.
The event, which was held on Monday, September 16 in the Student Union, featured the voices of "18 environmental movement leaders from underrepresented identities across America." 
The exhibit featured 18 posters, one for each person interviewed through Lin's project. The posters included photos and quotes intended to raise awareness of the perspectives and experiences of those whose voices are not always heard.
According to Lin's display, 84% of staff in environmental organizations are white, thus shaping a narrative that is not inclusive of those most affected by climate change. Lin is hoping to challenge this narrative through her project.
"As someone who has really felt the lack of diversity in many situations, I wanted to interview others with similar experiences," says Lin. "Climate change disproportionally affects minority populations. I wanted to learn from what they have to say."
An interactive display invited attendees of the event to contribute their perspectives on climate change and the environmental movement. Participants wrote their thoughts on a paper leaf that was then attached to a tree on one of the walls in the exhibit. The exhibit will also be on display as part of the Climate Strike, to be held on the green outside of the Student Union on September 20, 2019.
"I want people to really get the full experience," said Lin. "Climate crisis is an over-reaching issue that touches everyone. That's why I'm so passionate about studying the intersection of social justice with engineering."