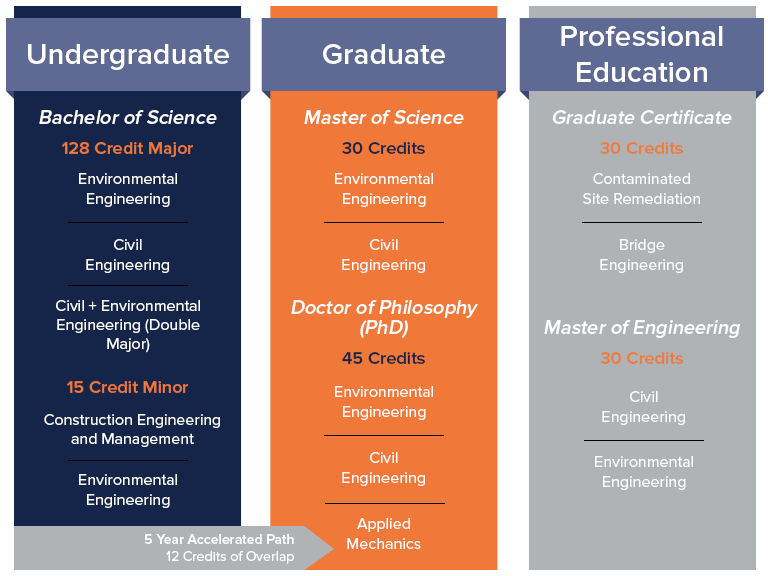 Because we offer a variety of flexible programs to get the most out of your education
With 128 credits, you could obtain a major and one or two minor degrees, and even pursue a double major in Civil and Environmental Engineering by working with your advisor to select your elective courses.
You can use up to 4 courses (12 credits) towards your graduate degree (Masters of Science or Doctor of Philosophy) and complete your MS within only one year after you obtain your BS.
You can continue your graduate education right here at UConn while working full-time, by following one of our Professional Education programs.
Because we foster an environment of inclusion
Making every student, faculty and staff feel welcome regardless of race, ethnicity, gender, sexual orientation, ability or learning style is a priority here at UCONN CEE. Join our Antiracism and Equity Action Committee to support our ongoing efforts and be an agent of change.
In 2020, the National Science Foundation recognized our commitment and awarded us with a $2,000,000 grant to launch the INCLUDE program, integrate our philosophy of inclusion in every aspect of our programs, embracing neurodiversity and encouraging every student to cultivate their unique strengths and create their own identity as an engineer. 
Because we offer real-world education
At UConn CEE, you will have the opportunity to learn using cutting-edge educational technologies and pedagogical approaches. Our ABET-accredited programs include a wide variety of design-oriented courses that integrate real-world problems and culminate in the capstone design course. Seniors spend their last year working on a real-life project sponsored by an engineering firm, municipal or government agency to solve a problem with realistic technical and financial constraints.
We also offer several unique opportunities, such as:
Because we pursue innovation and excellence in research
UConn is a Research 1 (R1) designated university, according to the Carnegie classification. This means that research is at the core of the University and the School of Engineering mission. The CEE faculty are renowned experts and work on multi-million dollar projects that address the grand challenges of tomorrow. In a rapidly evolving world, we believe that access to the frontiers of knowledge and an appreciation of the research enterprise provides our students with a competitive advantage over their peers. Engagement in research also provides an opportunity for closer interaction with faculty and mentoring by graduate students, widening student horizons of what it means to be an engineer.
To this end, the department provides a competitive research internship program that provides financial support for our students to spend one summer and one academic year conducting research in our world-class laboratories with a faculty member of their choice. The first cohort of our Undergraduate Research and Innovation program was launched in the Summer of 2019, including 10 students of both civil and environmental engineering.