UConn engineering seniors Anton Kaminskiy, Michael Pagano, and Keith Robbins teamed up for a decisive win in the Civil and Environmental Engineering Department's first Concrete Strength Testing Competition, an event that may become an annual tradition. The competition was introduced to students in Dr. Lanbo Liu's Civil Engineering Materials Lab (CE 3520) when they were presented with a unique engineering problem to solve.
The challenge was intended to get students to "apply their understanding of concrete mix design to a real-world problem," said lab supervisor Jon Drasdis, "by trying to make the best possible structural concrete for a dam that would be strong, impermeable, and resilient."
The overall goal of the competition was to create a Portland cement mix design that, after 28 days of curing, would make the strongest 4" x 8" cylinders that might be used for a diversion dam that would have a maximum height of 30 feet of water behind it and an expected lifespan of 200 years.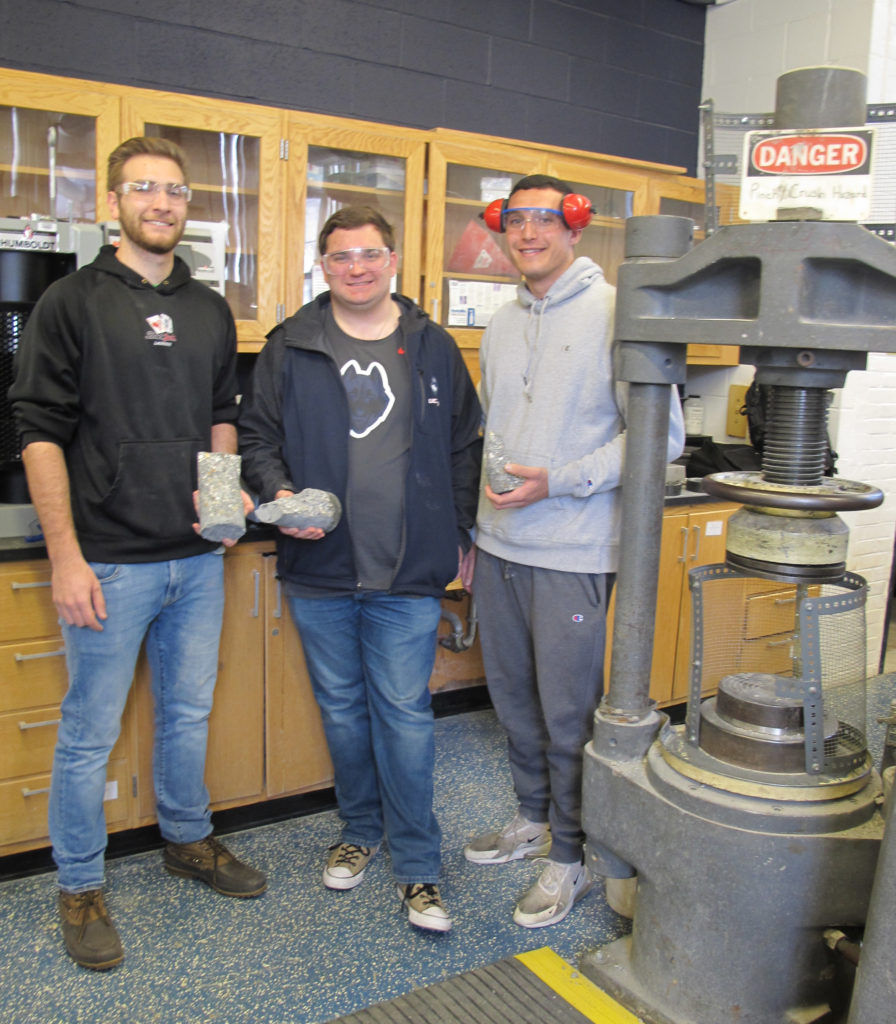 With the support of teaching assistants Jeffrey Steiner and Rebekah Thielman, the teams got to work, each concocting their own unique blend of materials. The members of the winning team created their concrete mix design using a mixture of cement, sand, coarse aggregate (gravel), a plasticizer, and water, while other teams tried out a variety of additives, including ground silica, salts, dyes, steel fibers, and fly ash.
Once the concrete was mixed, the students then cast 4" x 8" cylinders and cured them under constant temperature and relative humidity conditions in the curing room. The cylinders were subjected to strength testing at several points during the curing process; first at 7 days, then at 14 days, and finally, at 28 days.
The strongest cylinder at the 28-day mark outperformed all other cylinders by a large margin. While most of the cylinders produced in the competition demonstrated a compressive strength of approximately 60,000 pounds, the winning team's 4" x 8" concrete cylinder was able to withstand a whopping 94,000 pounds of force.
In a fitting acknowledgement of the students' high performance in this year's competition, the "Young Engineering Concrete Design Champions" received small trophies made of ultra-high performance concrete (UHPC), along with gift cards and certificates of achievement.