Senator Blumenthal Discusses Autonomous Vehicle Safety with UConn Engineering Professor Eric Jackson, UConn Officials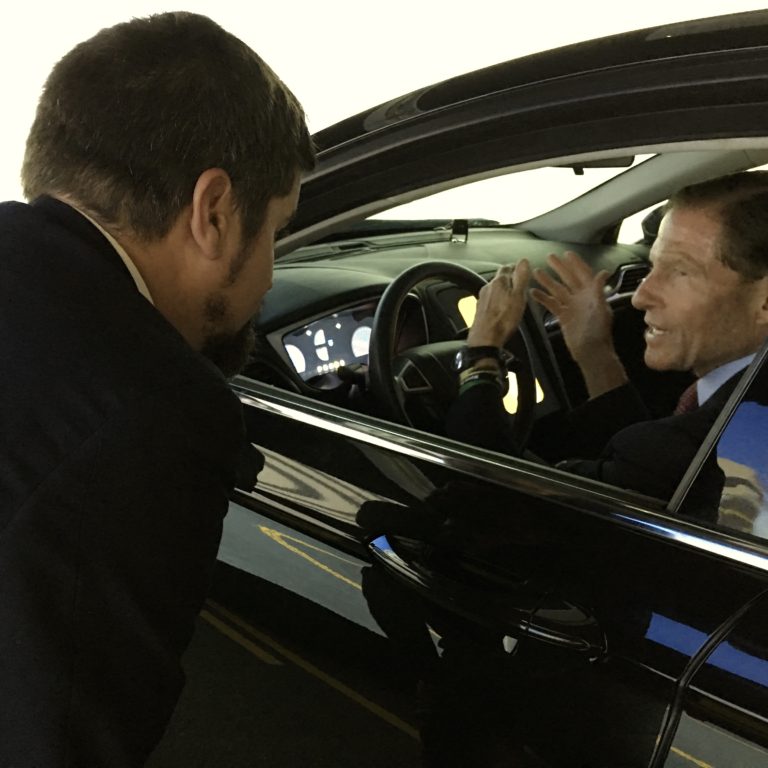 Senator Richard Blumenthal sits in the full-sized driving simulator while discussing its features with CTRSC Director and UConn Engineering Professor Eric Jackson. (Eli Freund/UConn Photo)
With a strong interest in autonomous vehicles and their safety, Senator Richard Blumenthal (D-Conn.) visited the Connecticut Transportation Research Safety Center at the University of Connecticut last week, to speak to Director and Engineering Professor Eric Jackson and other officials about the University's role in advancing the technology.
CTRSC recently received a full-scale driving simulator, located in the center, which is being used to test human interactions with autonomous vehicles and other driving scenarios. Funded by the Connecticut Department of Transportation and UConn, the car was custom built by Realtime Technologies, a simulation company based in Michigan.
Stepping into the simulator, Blumenthal was able to experience and test its autonomous vehicle mode, and get a first-hand look at the cutting-edge research capabilities of the Center.
Blumenthal is one of a handful of Senators that are leading the charge on safety and the study of autonomous vehicle technology before it goes into the hands of consumers.
On Friday, he stressed the importance of research, because autonomous vehicle technology, still to this day, hasn't been perfected:
"The fully autonomous vehicle doesn't always work, so usually a human has to override it, and I've noticed that there is currently a strong need for manual override," Blumenthal said. "Maybe not in every instance, but it's been enough that I've insisted on legislation that makes sure we take a safe approach to autonomous vehicles."
Jackson agreed with Blumenthal's concerns, and relayed that virtual simulation will be an important aspect of autonomous vehicle study, because it eliminates danger:
"The simulator lets you put people in much more riskier situations, so that if they crash in the simulator, no one gets hurt, which might not be the same scenario if you tested in a real-world situation," Jackson said.
Reviewing all the information he learned from Jackson, and other UConn officials, Blumenthal remarked that the research going on at UConn is important:
"Automation of vehicles will definitely be an important technological innovation when it's fully released to the public," Blumenthal said. "But we want to be cautious, and that's why I think that UConn is doing some great and important research with this simulator."
For more information on the simulator, and its future plans, please click here.