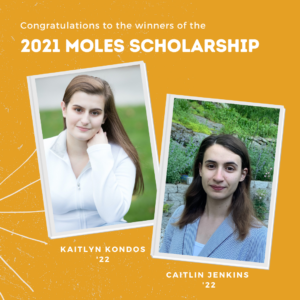 Kaitlyn Kondos and Caitlin Jenkins have been awarded scholarships by the Moles Charitable Fund for their academic excellence and their interest in the Heavy Construction Industry. Congratulations to both for this well deserved award!
Kaitlyn Kondos '22
Kaitlyn Kondos is a rising senior with an expected graduation date of May, 2022, majoring in Civil Engineering, with a minor in Construction Engineering and Management. She is a part of the University of Connecticut's Honors Program and is involved in the American Society of Civil Engineers (ASCE), the Society of Women Engineers (SWE) and Tau Beta Pi, The Engineering Honors Society. Over the summer she will be interning at WSP USA and will begin a position as an Undergraduate Research Assistant in Fall 2021. She looks forward to returning to campus and pursuing her interests in construction management and encouraging young students to engage in STEM activities.
Caitlin Jenkins '22
Caitlin Jenkins is a rising senior in Civil Engineering with a minor in Environmental Engineering.  Her areas of interest include Geotechnical Engineering and Environmental Engineering.  In the summer of 2021 she worked for Fuss and O'Neill as an environmental compliance intern, which gave her the opportunity to be involved with the geotechnical aspects of multiple projects. In her free time she enjoys hiking and gardening.