Environmental concerns have always been important to Brodey Lu, a CT high school student whose project titled " Creating a smaller and more portable vertical axis wind turbine to increase the usage and accessibility of wind energy harvesting devices" won one fair medal and six awards in recent 2021 Connecticut Science & Engineering Fair.
His interest in the topic was sparked by watching documentaries in school about climate change and global warming, which made him realize that developing sustainable practices should be a priority.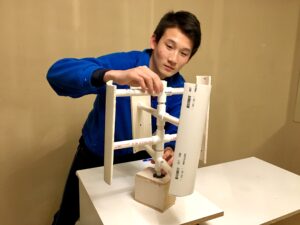 He says, "I wanted to find something that could be practically applied and have widespread relevance, without being too technical due to my limited access to resources during the pandemic. As suggested by Professor Zhang, designing an enhanced wind turbine prototype seemed like a project that could be reasonably done at home, while maintaining an ambitious scope. It was also an introduction to the world of engineering, which I was new to until this point." 
Brodey Lu began working with Dr. Wei Zhang in June of 2020. He first connected with Professor Zhang after finding one of his journal articles while doing general research for potential ideas. At the time, he was searching for experts in wind dynamics and wind energy to help with a future project. After exchanging more information, they began  communicating regularly, as Brodey continued to work on the project throughout the year. 
"In the long term, I can definitely see myself pursuing a future in engineering, specifically when it comes to environmental issues," says Brodey, "I learned a lot about myself through this project, and appreciate having a stronger sense of purpose and direction now than I did previously. For now, my goals are to continue exploring this field, as well as other fields of applied science, and to really build on my interest in engineering. I hope this will help set me up to make a positive difference in the ongoing efforts towards a cleaner, more sustainable future."
The project has won several awards: Lockheed Martin Physical Sciences Awards — Finalist;  American Meteorological Society Award; Constellation, an Exelon Company High School Award For Excellence in clean renewable / sustainable energy 1st Place; CT Architecture Foundation – The William M. Mack, AIA Award; MIT Club of Hartford K-12 Initiative Award For excellence in science & technology of energy related research, high school;  Frank J. Link Family Award for Energy Related Research; Connecticut Invention Convention "Next Step Inventors" . The details can be found here.
https://ctsciencefair.org/2021/2021-fair-results
Congratulations to Brodey for his excellent work! Looking forward to seeing his new development and achievement in the future!