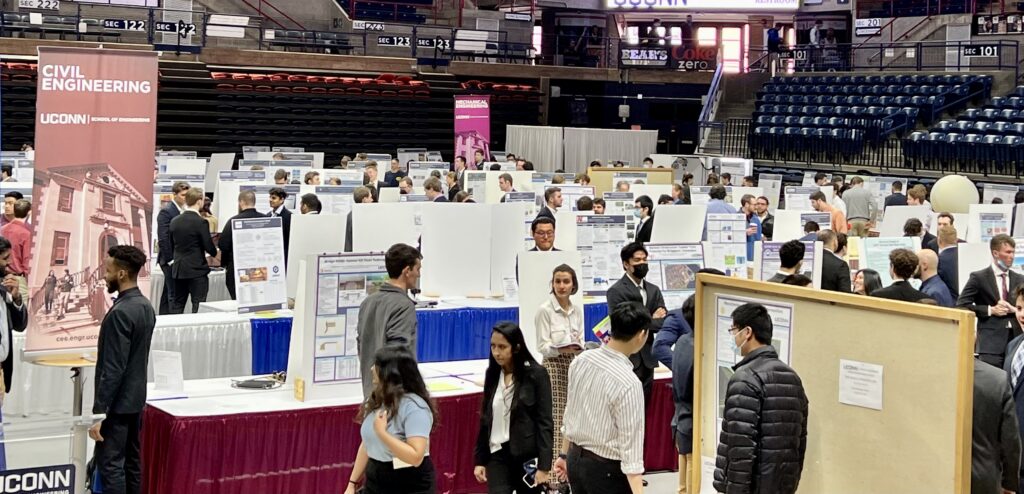 April 29, 2022
This afternoon, Senior Design Demo Day took place in Gampel Pavillion. Students across all engineering departments joined together to showcase all of their hard work this year. Everyone should be proud of how far they have come since their first week of college.
Congratulations to all of the graduating seniors and to the following SDP winners this year:
Civil Engineering
1st Place
Title: Modern Roundabout at the Intersection of Hunting Lodge Road and North Eagleville Road
Members: Kaitlyn Kondos, Nicole Martocchio, Joseph Mikulewicz, Avishan Montazer
Sponsor: VHB
Advisor: Shinae Jang
2nd Place
Title: Design of Site Work for Reconstruction of Washington Elementary School, West Haven, CT
Members: Fiona Casey, Aidan Fay, Katie Laresch, Meg Sirowich
Sponsor: Stantec
Advisors: Manish Roy, Philip J. Katz, P.E.
3rd Place
Title: Design of the Extension of Constitution Boulevard West in Shelton, CT
Members: Samuel Baum, Brad Kelle, Jacob Zakrzewicz
Sponsors: Luchs/DeCarlo & Doll
Advisors: Terrance Gallagher, P.E., Ronald J. Nault, P.E., Manish Roy
Environmental Engineering
1st Place
Title: Centredale Manor Restoration
Members: Scott Ackerman, Madeleine Hasson, Andrew Macklin, Taryn Shannon
Sponsor: Loureiro
Advisor: Alex Agrios
2nd Place
Title: Design of New Stormwater Management and Septic System for Fire Station 140, Tolland CT
Members: Stone Brown, Jessica Canty, Caroline Sabo
Sponsor: CHA
Advisor: Manish Roy
3rd Place
Title: Bolton Water Connection
Members: Ethan Lo, Kaelie Moran, Zachary Sagendorf, Juanita Toro
Sponsor: Town of Bolton
Advisor: Alex Agrios