Author: Senator Blumenthal Discusses Autonomous Vehicle Safety with UConn Engineering Professor Eric Jackson, UConn Officials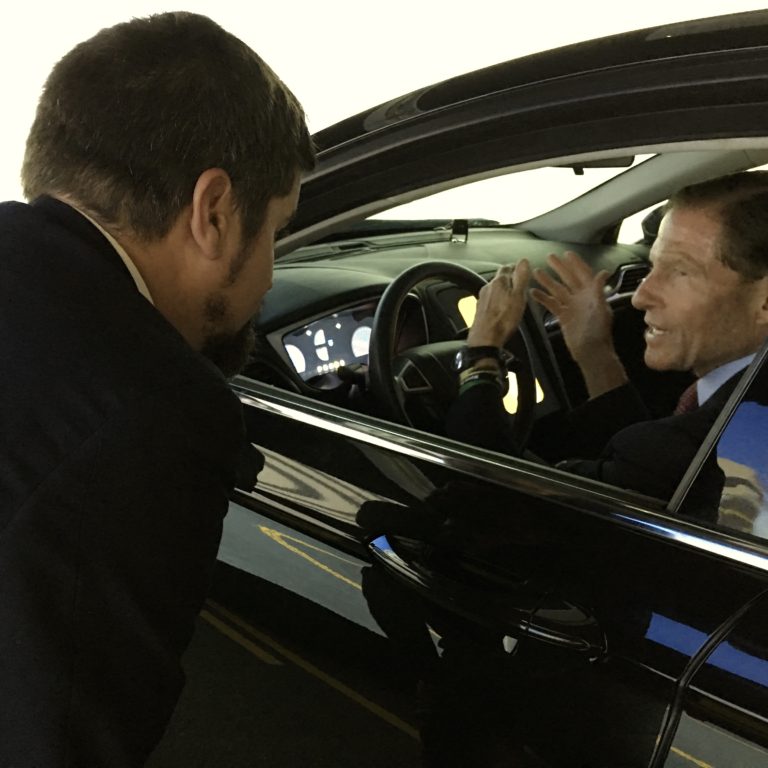 Senator Richard Blumenthal sits in the full-sized driving simulator while discussing its features with CTRSC Director and UConn Engineering Professor Eric Jackson. (Eli Freund/UConn Photo)
With a strong interest in autonomous vehicles and their safety, Senator Richard Blumenthal (D-Conn.) visited the Connecticut Transportation Research Safety Center at the University of Connecticut last week, to speak to Director and Engineering Professor Eric Jackson and other officials about the University's role in advancing the technology.
CTRSC recently received a full-scale driving simulator, located in the center, which is being used to test human interactions with autonomous vehicles and other driving scenarios. Funded by the Connecticut Department of Transportation and UConn, the car was custom built by Realtime Technologies, a simulation company based in Michigan.
Stepping into the simulator, Blumenthal was able to experience and test its autonomous vehicle mode, and get a first-hand look at the cutting-edge research capabilities of the Center.
Blumenthal is one of a handful of Senators that are leading the charge on safety and the study of autonomous vehicle technology before it goes into the hands of consumers.
On Friday, he stressed the importance of research, because autonomous vehicle technology, still to this day, hasn't been perfected:
"The fully autonomous vehicle doesn't always work, so usually a human has to override it, and I've noticed that there is currently a strong need for manual override," Blumenthal said. "Maybe not in every instance, but it's been enough that I've insisted on legislation that makes sure we take a safe approach to autonomous vehicles."
Jackson agreed with Blumenthal's concerns, and relayed that virtual simulation will be an important aspect of autonomous vehicle study, because it eliminates danger:
"The simulator lets you put people in much more riskier situations, so that if they crash in the simulator, no one gets hurt, which might not be the same scenario if you tested in a real-world situation," Jackson said.
Reviewing all the information he learned from Jackson, and other UConn officials, Blumenthal remarked that the research going on at UConn is important:
"Automation of vehicles will definitely be an important technological innovation when it's fully released to the public," Blumenthal said. "But we want to be cautious, and that's why I think that UConn is doing some great and important research with this simulator."
For more information on the simulator, and its future plans, please click here.
Author: Conquering Everest: A Life-Changing Trip to Nepal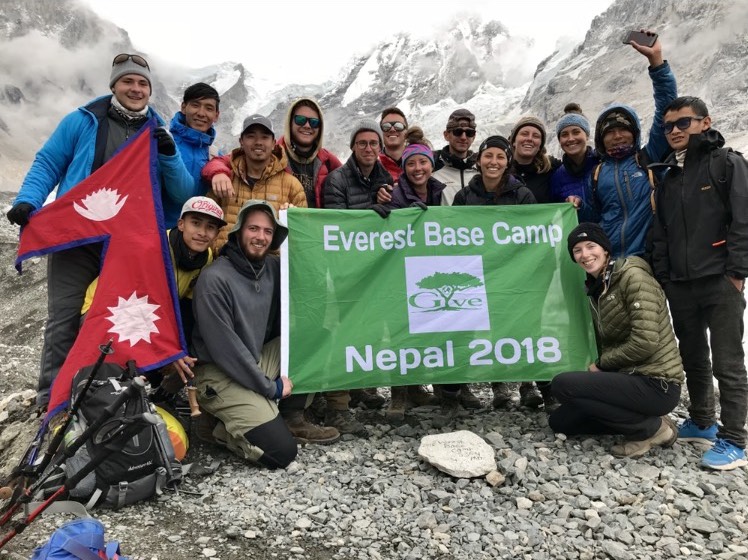 (Photo Courtesy of Harrison Graham)
During those three short months of summer vacation, college students spend their time doing a variety of things. Some may go out and get a summer job, some take on an internship, some may even take those months to relax and recharge for the new school year.
Harrison Graham, an incoming sophomore Civil and Environmental major, did none of those things. That's because Graham spent several weeks volunteering in Nepal, which culminated in a climb up to the basecamp of Mt. Everest.
Climbing with a group of over a dozen college students, the 17,600-foot vertical journey took nine days to complete. The group was initially flown in by helicopter to a village named Lukla, a popular starting point for novice Mt. Everest climbers, and from there they made the arduous journey, stopping at night to stay in tea houses (similar to a small bed-and-breakfast), where they would recharge and rest.
Graham said that the 80-mile roundtrip had some challenges, including a battle against the elements:
"The main challenge proved to be the altitude. As we climbed higher and higher it became harder to breath, and altitude sickness became a worry (although none of us contracted any form of altitude sickness), Graham said. The oxygen level at Everest Base Camp was just half of that at sea-level, which I live at, so breathing proved to be a bit difficult at times."
Even with the challenges, Graham said that climbing the famed mountain was one of the best moments of his life, as was his experience with GIVE, the organization hosting the trek to Nepal.
GIVE, which stands for Growth International Volunteer Excursions, is an international organization that focuses on increasing social and economic opportunities in the areas that volunteers visit. Graham's visit focused on the small village of Paslang, which was devastated by a massive 7.8 magnitude earthquake in 2015.
The village was one of the hardest hit in Nepal, with almost nothing left but "enormous piles of broken red bricks and heaps of mud and dust," according to a news report from April 2015.
When Graham and his fellow volunteers reached the village, they saw a community still recovering from that tragedy, and did all they could to help:
"While there, we worked vigorously alongside the locals to complete homes, which also serve as businesses during the pilgrimage season, where the villagers open up their homes as homestays, Graham said. We saw tremendous progress as we put roofs on two houses, got another ready for roofing by finishing the walls, and completed the foundation for another. We were in Paslang for two weeks helping to construct these homes and teaching English at a nearby school."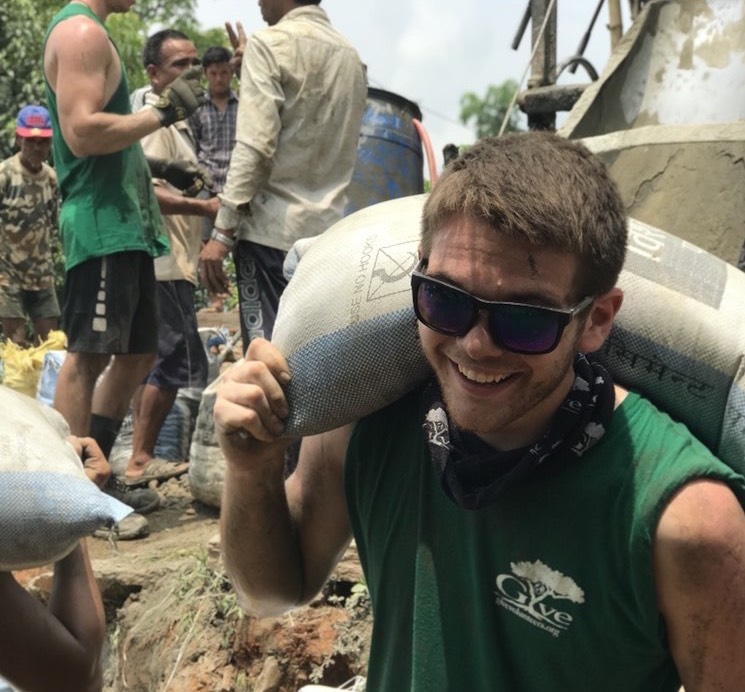 Graham volunteering in the village of Paslang (Photo Courtesy of Harrison Graham)
Graham said doing that kind of work gave him a sense of pride and accomplishment, and it also allowed him to fulfill his secondary goal of traveling to a destination that he had never explored, while doing something meaningful:
"I decided to spend part of my summer in Nepal for many reasons. For starters, I love to travel and I had never been to Asia, so already I was looking into an opportunity such as this, Graham said. Secondly, I am a huge believer in travelling sustainably — giving back as much as you take from an experience abroad. Working alongside the locals and hearing their stories is an enlightening and inspiring experience that is difficult to find anywhere else."
And in the end, reflecting back on his summer, Graham got an experience that changed his perspective on life:
"The people I met and connected with were incredible, the things I saw and took part in were life-changing. The trip changes the way you think about everything back home for the better. I feel more open and connected to those around me. It opens your mind to different perspectives and cultures and gives you an appreciation for the billions of people we share this world with."
Author: UConn Bridge Repair Could Save The Connecticut Taxpayer Millions of Dollars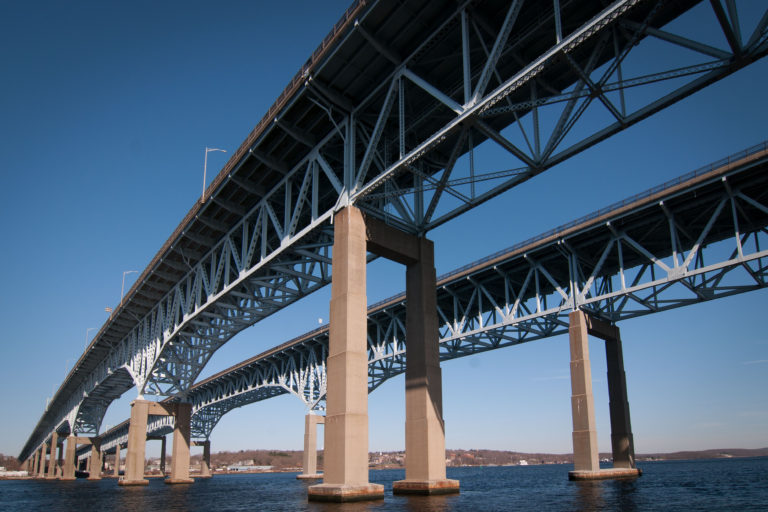 A view of the north and south lanes of the Gold Star Bridge, which is made of steel and is the longest bridge in the state (Peter Morenus/UConn Photo)
With an aging inventory of steel bridges in the state of Connecticut, corrosion has become a large and costly issue. Facing this growing problem offers only two expensive solutions for Connecticut, and many other states across the country—replace or do a time and labor-intensive repair.
Across the country, little has been done to improve the process, with no new novel repairs gaining traction. Complete replacement costs can run into the millions of dollars, depending on the project, and the process of cutting out the corroded section of steel and replacing it with new steel is costly and cumbersome, requiring multi-day traffic stoppages, paint removal, and specialized equipment to jack up the superstructure.
Over the past few years, the application of ultra high-performance concrete has gained traction in structural engineering. This material has allowed UConn Civil and Environmental Engineering Professor Arash Zaghi, and his Ph.D. students, Kevin McMullen, Alexandra Hain, and Dominic Kruszewski, the ability to develop an alternative repair that could save millions of dollars, avoid large-scale shutdowns, and regain the original strength of a beam.
The implementation, which is being coordinated with the Connecticut Department of Transportation, will happen during the summer of 2019, and could potentially save the state a significant amount of money, if successful:
"A traditional repair may cost about three or four million dollars, and a complete bridge replacement could cost tens of millions of dollars," Zaghi said. "Using this repair method for just one bridge could save the state millions of dollars and would not need the bridge to be shut down."
The implementation would be the final step in a three-phase project which began in 2015. The other two phases, involving simulated modeling and full-scale testing, were well received by the DOT.
Zaghi said that the ultra high-performance concrete is special, because of its strength and ease-of-use:
"One of the most crucial characteristics of this concrete is that it's about six times stronger than normal concrete," Zaghi said. "Additionally, its viscosity is equivalent to maple syrup, and that flowability allows us to cast the material into very complex and unique geometries."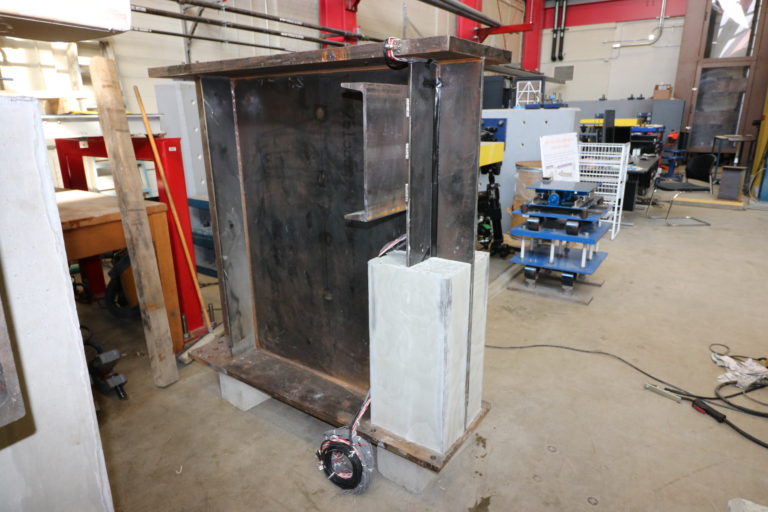 A steel beam encased in the UHPC in the Structures Lab in the Castleman Building (Courtesy of Kevin McMullen)
The flowability is especially key, as corrosion on a steel beam doesn't form in a perfect shape, but creates its own unique form. By creating that customized shape, workers will be able to weld headed studs into the intact portion of the beam, and then encase the girder end in the ultra-high performance concrete. The repair requires no traffic shutdown, no jacking of the superstructure, and can be completed much faster than conventional repair methods.
If Zaghi and his team's novel repair works, the possibilities and applications could be nearly unlimited, considering the large amount of steel bridges in the United States, which are rapidly deteriorating. According to Kruszewski, the situation is dire:
"It's sort of like a fulcrum right now, where we're noticing bridges from the 1950s and 1960s are all reaching their service life, almost at the same time," Kruszewski said. "This was the result of a huge infrastructure boom during the Eisenhower administration."
According to the team's research, there are a total of 56,000 structurally deficient bridges throughout the country. Over 75% of these bridges are over 50 years old and have exceeded their design life. Corrosion damage is a major problem for aging bridges across the country and approximately $273 billion is spent annually on corrosion maintenance, $8.3 billion of which goes to the repair and replacement of highway bridges.
According to McMullen, the huge corrosion problem is very prevalent in Connecticut and the eastern United States:
"In the northeast, and in Connecticut, a lot of our bridges are made from steel," McMullen said. "In places on the west coast, like California, they don't have this problem as much, because a lot of their bridges have been made from concrete."
Hain says that in the year leading up to implementation, UConn and the Connecticut DOT will take long and deliberate steps to make sure the process goes smoothly:
"We're going to be working closely with the state DOT to transfer all of the knowledge we learned from phase one and phase two, and to support the implementation of the new repair," Hain said. "Our goal is for Connecticut DOT to be able to use this repair statewide and have the ability to perform the repair in-house."
Author: New UConn Driving Simulator Provides Data, Learnings for Transportation Industry

(Christopher Larosa/UConn Photo)
Hidden in a tucked-away side room in the Longley Building is a dark and cold space housing a full-sized 2014 Ford Fusion. Surrounding the car are six screens projecting a cityscape, not unlike the downtowns of the 169 towns and cities spread across Connecticut.
While the car looks like a fully-functioning automobile, the intention of the car is not for transportation, but simulation.
More specifically, the Fusion is a full-sized driving simulator, transporting the user into an experience mirroring the force felt during acceleration and stopping—the car is equipped with actuators  located under the car which provides the sensation of movement —and providing an environment in which Dr. Eric Jackson, associate research professor and director of the Connecticut Transportation Safety Research Center, and his team, can study new vehicle technology and human driving behavior in a safe, simulated way.
The simulator, funded by the Connecticut Department of Transportation and UConn, was custom built by Realtime Technologies, a simulation company based in Michigan.
This new piece of technology opens a new world of research opportunities for Jackson and the University, because of the ways in which his team had to conduct research in the past:
"Before we got this simulator, we weren't able to do research like this at all," Jackson said. "A lot of research before was done through police reports, with the officer documenting what happened in the crash, and whether they were intoxicated, or they had drugs in their system. That kind of research is a very reactive approach, where we're now able to take a proactive approach."
The proactivity will stem from the ability of Jackson and his team to study things like drunk driving, which kills over 10,000 people in the United States a year, distracted driving, which causes nine deaths a day in the U.S., and human interaction with autonomous and connected vehicle technology.  
Through scenario simulation, biometric recording, and reaction time measurement during intoxication or distraction, Jackson will be able to study human participants, and eventually build educational campaigns and materials around the data collected.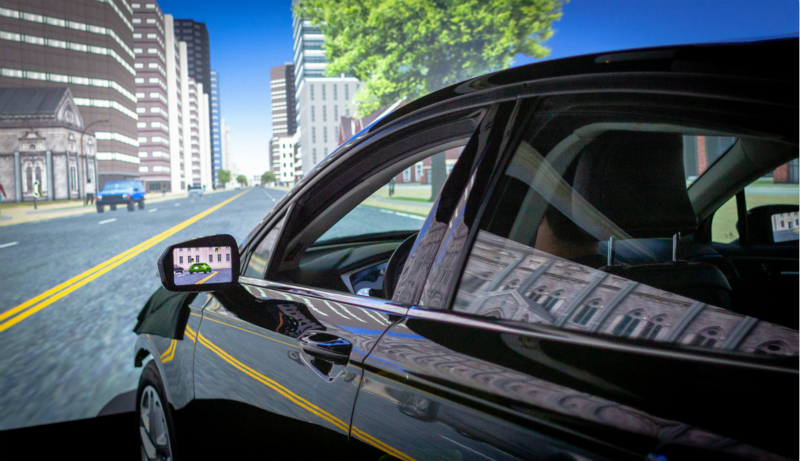 But beyond just the research coming out of the CTSRC, Jackson emphasized that this simulator is a tool that could be used by the entire UConn community for research:
"We're going to basically make this a university-wide resource, inviting anybody that wants to write a proposal to do whatever they want to do, it'll be here for them," Jackson said.
For example, Jackson said that the UConn Health Center researchers might be interested in using this simulator if they were looking to develop a new monitoring system, embedded in the driver seat, to actively measure a driver's vital signs for drowsy, drugged, or distracted driving.   
Most importantly, the mission for Jackson is increasing road safety and reducing the amount of fatal crashes in the state and beyond.
"Having this controlled environment allows you to test, without putting people in harm's way, and results in research and technologies that could have a real effect on the world."
Author: UConn Engineering Selects First Female Department Head in School's 102-year History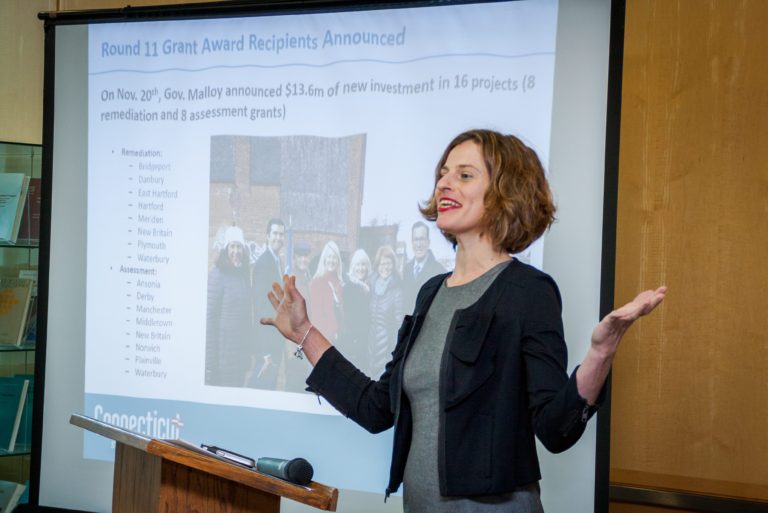 Dr. Chrysochoou, in a ceremony held in the ITE Building in November 2017, introduces and launches the Connecticut Brownfields Initiative (Christopher Larosa/UConn Photo)
The University of Connecticut School of Engineering is proud to announce the appointment of Dr. Maria Chrysochoou, a talented scientist, teacher, and academic leader, to the position of department head for the Civil and Environmental Engineering Department. Dr. Chrysochoou, when she assumes her new role at the beginning of the Spring 2019 semester, will become the first female department head in the School's 102-year history.
Dr. Chrysochoou will be stepping into a department that has been in the capable hands of Dr. Amvrossios Bagtzoglou for nearly a decade. During his tenure, the CEE department increased the number of faculty by nearly 40%, recorded a 318% increase in research expenditures (largest departmental increase in that time period), and has seen its student population in the Environmental Engineering program become a majority female.
Dr. Chrysochoou has served as the Director of the Environmental Engineering program since 2015, has been a faculty member in the CEE department since 2007, and received her Ph.D. in environmental engineering from the Stevens Institute of Technology in 2006. 
In addition to serving as the program director for EE, Dr. Chrysochoou is also the director of the Connecticut Brownfields Initiative, an interdisciplinary training program, launched in 2017, which is teaching students how to transform polluted and abandoned property into valuable land. Students in the program work directly with Connecticut cities and towns to revitalize and restore properties, gaining experience while supporting local communities.
She is a member of the American Society of Civil Engineers (ASCE) Geoenvironmental committee, serves as a subject matter expert for the Federal Highway Administration, was named a Marie Curie Fellow in 2013, and received the U.S. Environmental Protection Agency People, Prosperity, and the Planet Award in 2012, for her and her team's use of local byproducts to stabilize soils against erosion in Nicaragua.
The move comes on the heels of the School's strong push to increase females in engineering over the past several years, in a field which suffers from severe underrepresentation. On the student side, UConn was named the top public institution in the country for closing the engineering gender gap, in a survey conducted by the Washington Post. Overall, across the country, female engineering students comprise only about 21 percent of the undergraduate population, and UConn Engineering has a population that is 38 percent above the national average.
For more information on Dr. Chrysochoou, and the Civil and Environmental Engineering Department at UConn, please visit: https://cee.engr.uconn.edu/.
Author: Alumni News Series III
Ada Liz Gabancho-Soto (B.S. Environmental Engineering, '14) recently joined the Vermont Youth Conservation Corps (VYCC) as a conservation crew leader.   VYCC is a statewide nonprofit organization serving youth ages 16-24.  This summer, Gabancho-Soto is leading local teens restoring historical trails at the Gettysburg Quarry in the Dorset Town Forest.  Prior to joining VYCC, she was a Long Island Sound Water Quality Communication GLOBE Intern at The Nature Conservancy.
Jim R. Nichols (M.S. Environmental Engineering, '94) was selected as city manager for 
Des Moines, Washington.  He previously served as county manager of Douglas County in Nevada, Las Vegas deputy city manager, and assistant city manager in Midland, Texas.  Nichols has more than 17 years' experience in local government management with expertise in public works, engineering, public safety, community services, parks and recreation and capital improvement programs.
Rebecca Ruitto Hall, P.E., (B.S. Civil Engineering, '09) recently earned her Professional Traffic Operations Engineer (PTOE) certification from the Institute of Transportation Engineers.  A project engineer at Tighe & Bond offices in Middletown, this national certification recognizes Hall mastering the specialized knowledge, skills and abilities required for traffic operations engineering; she is one of only 21 PTOEs in Connecticut.  She serves on the Board of Directors for Women's Transportation Seminar Connecticut Chapter
Author: Keeping Connecticut's Bridges Strong
By Josh Garvey
The Connecticut Department of Transportation has received a national award for a new bridge repair method, developed at UConn, that could significantly decrease the time, lane closures, and cost needed to repair a bridge.
The method of repair involves using advanced concrete as a cast over the end of a bridge's steel girders, where corrosion from the elements and salt often occur.
"When tested in the lab, this repair method actually made the corrosion-damaged girder stronger than an intact girder," says Arash Zaghi, an assistant professor of civil and environmental engineering, who led the research. Zaghi worked with assistant professor Kay Wille in civil and environmental engineering and a team of graduate students. Both faculty members are also affiliated with UConn'sInstitute of Materials Science.
Zaghi says the technique also has the potential to significantly reduce the need for lane closures and cut the cost of repairs dramatically.
Brad Overturf, a transportation supervising planner with the Connecticut Department of Transportation (CTDOT), emphasizes the financial impact of the project.
"We see the potential benefits in terms of speed, cost, and not having to shut down the bridge for the repair," Overturf says. "There's enormous potential for cost saving."
The process is about to be tested under real world conditions.
The award, called a Sweet 16 Transportation Through Excellence Award from the American Association of State Highway and Transportation Officials, recognizes 16 innovative transportation projects throughout the country. These 'High Value Research Projects' were selected from more than 120 projects submitted by state-level departments of transportation.
Currently, a bridge has to be jacked up to carry out repairs – the support structure of the bridge can't hold any weight while it's worked on. This process can account for up to 70 percent of a repair project's cost and can close traffic lanes, increasing congestion.
The new technique developed at UConn involves welding shear connectors to the girder, then pouring ultra-high performance concrete directly around the metal, with the studs keeping the concrete in place. Since this can be done without jacking the bridge, this repair method could significantly shorten the time needed to fix support beams.
Many of the bridges throughout the nation were built in the 1950s and 60s, and are reaching the end of their estimated lifespan. The new repair technique could add decades to their useful life. Those aging bridges were often coated in lead paint, and require costly abatement before repair work can begin. The concrete cast simply seals the paint in place and covers it, allowing repairs to proceed with no environmental risk.
Zaghi says the CTDOT has been very supportive of innovative research.
"CTDOT is really one of the most progressive departments of transportation in the nation," he says. "They're strongly committed to research and innovation that address the challenges of aging bridge infrastructure."
Ultra-high performance concrete, which is used in this repair method, is a new type of concrete that is reinforced with steel fibers and made from high-quality components. Zaghi says that, in addition to the impressive strength of the concrete, it hardens in only 12 hours and resists corrosion from bad weather.
"There's been extensive research into the material – it's very weather-resistant and water doesn't get inside of it, as it does with traditional concrete," he says. "The concrete will help protect the steel."
Author: Alumni News Series II
Christopher Granatini, P.E. (B.S. Civil Engineering, '96), a project manager at Tighe & Bond Middletown, CT office, was promoted to Associate within the firm's Stock Ownership Program.  With 19 years of experience serving state, local and private clients, last year Granatini assumed an expanded role as traffic and transportation services lead in Connecticut.  He is a member of the Institute of Transportation Engineers, American Society of Civil Engineers and Urban Land Institute.
Antonino M. Leone, J.D., P.E. (B.S. Civil Engineering, '95) has joined the law firm of Hinckley, Allen & Snyder as a new partner in its Hartford office. Admitted to the bar in Connecticut in 2006, Leone has also worked as a licensed professional structural engineer. He previously worked at the New Haven-based law firm Garcia & Milas. As an engineer, Leone has been responsible for the design and analysis of structural systems and components.  As a lawyer, he routinely represents construction clients in litigation, contract drafting, negotiations and employment issues. Leone earned his law degree at UConn in 2006.
Mark I. Austin, P.E. (B.S. Civil Engineering, '93) has been appointed as a municipal engineer for Hamden, CT.  Most recently, Austin served as the director of public works for Southbury, CT and, previously, the town of Bristol, CT as both a civil and environmental engineer.  A member of the Connecticut Society of Professional Engineers for 22 years, he earned a Masters of Public Administration at Norwich University in 2012.
Author: New Partnership to Bring Innovative Storm Outage Prediction Technology to Utilities
Schneider Electric, a global specialist in energy management, today announced an exclusive long-term partnership with the University of Connecticut (UConn) and Eversource Energy to combine the companies' storm outage prediction technology to create one, more precise and accurate model. UConn's unique analytics model will be integrated into Schneider's WeatherSentry Online (WSO) platform, enabling utilities to better understand the expected impacts of storms on their utility infrastructure and to make smarter decisions in preparing for storms to minimize restoration time, cost and impacts to customer.
"We are very excited about this unique collaboration between three leading organizations to further enhance this ground-breaking technology," said Jon Reifschneider, Vice President of Weather at Schneider Electric. "This project will also allow us to commercialize our comprehensive weather decision-support platform, taking it to new heights, fulfilling our commitment to provide innovative solutions for utilities to optimize their operations and better serve their customers."
The project will be housed at the Eversource Energy Center on the UConn campus. The Center is a partnership between the university and Eversource to develop state-of-the-art approaches for delivering reliable power and responding to severe weather and security events. Becoming a member of the partnership, Schneider Electric will apply its top-rated weather technology, weather data and expertise in developing scalable solutions for utilities globally.  With this new project, Schneider and Eversource will expand upon their long-term relationship in supporting storm preparation efforts by combining UConn's Outage Prediction Model (OPM) with Schneider's WSO platform and other weather services.
"As a utility, we work year-round to ensure we're ready for whatever Mother Nature brings our way," said Peter Clarke, Vice President of Emergency Preparedness at Eversource. "This partnership will enhance the precision of our current storm damage forecasting tool, allowing us to plan more effectively and deploy additional crews and resources to areas expected to be the hardest hit. This will help speed the restoration process and minimize any customer inconvenience." 
"We are excited to see the world-class research from our UConn team expand into the market," said UConn Provost & Executive Vice President for Academic Affairs, Mun Choi. "We are confident that the utility industry throughout the country will see this technology as an opportunity to leverage their outage and infrastructure data with Schneider's weather information to make informed decisions when severe weather strikes."
In addition to providing new, marketable technology, the announced partnership provides new opportunities for UConn students and researchers interested in the meteorological sciences and utilities management.
Author: Preparing to Face a Hurricane
By Josh Garvey
The next time Connecticut is facing a hurricane, the response may be better organized and more efficient, thanks to the combined efforts of UConn researchers and the Connecticut Division of Emergency Management and Homeland Security (DEMHS).
Brett Decker '14 (ENG), a master's student in civil and environmental engineering, and associate professor of civil and environmental engineering Nicholas Lownes have developed a model that evaluates which of the state's 220 storm shelters should open in the event of a hurricane, according to the intensity of the storm.
"What Brett's model and work is helping to do is be more strategic in the maintenance and planning and the provision of supplies and stuff at these locations," Lownes says. "At the end of the day, it's trying to give DEMHS a leg up in being prepared for hurricanes and dealing with a limited budget."
DEMHS is responsible for an integrated and coordinated emergency management and homeland security program throughout the state.
Decker's model, called a facility location model, is designed to minimize three factors: the travel time from home to shelter, the people not assigned to a shelter, and the cost of opening and operating an emergency shelter. To create the model, Decker looked at flood data along coastal regions, population data, the location of shelters, and other information.
Different weather scenarios can be put into the model, which can help people explore the results of different storm categories hitting the state. This can lead to some surprising results.
"We found that no matter how hard we ramped up the number of people evacuating, we never opened all the shelters." Lownes said. "The maximum number of shelters we opened was somewhere in the neighborhood of 180 out of 220. That's a 10 to 15 percent savings potential."
He described the current approach as being aware of the existing shelter capabilities and making decisions on a case-by-case basis. By using a facility location model like the one Decker and Lownes have constructed, the approach could become more systematic and efficient.
The researchers say, however, that the model isn't a quick-fix solution, as there are many unknowns. One area of uncertainty is how many people will require shelter from any given storm – many people choose to stay with friends or relatives or simply go to a hotel.
"There's a lot of uncertainty in what we're doing," Lownes says. "We're not saying 'this is the single best solution.'"
Lownes and Decker presented their model to DEMHS last fall.
William Hackett, director of state emergency management, was impressed: "Their research really put together public safety, the academic side, and the private sector in sheltering and large-weather response," he says.
Decker's work has led to an internship with DEMHS this semester, which is allowing him to refine the model. The facility location model is based on assumptions; by incorporating DEMHS's extensive first-hand knowledge, those assumptions can be made more accurate and true-to-life.
"We could look at different hazards and how they might affect different areas," says Mike Caplet, DEMHS Region 4 coordinator. "[Brett] has got a model, and we can tweak it with all of the details with local and regional partners – get that on-the-ground input."
Hackett says research is an important part of emergency management going forward.
"We consider UConn a partner in our emergency management program," he says. "Brett exemplifies the future of emergency management, using models to enhance our current policies and procedures. We welcome anyone who has interest in this sort of planning and modelling to work with us."
Decker, who also earned his undergraduate degree at UConn, became interested in hurricane preparation and helping people who have been hurt by large storms after a trip during his sophomore year to New Orleans for rebuilding after the hurricane. He went again in his junior year, then led the trip in his senior year, with around 55 students building homes in the area. That passion led him to his graduate work, after a discussion with Lownes.
Lownes suggested that Decker work with him on a Department of Homeland Security fellowship, which facilitated the creation of their facility location model.
"Before Dr. Lownes talked to me about it, I didn't think it was possible to combine my interest in engineering and transportation specifically with the volunteer work I'd done in New Orleans," Decker says. "Being presented with this opportunity was very motivating for me, because I could maybe work toward planning so that what happened in New Orleans doesn't happen in Connecticut."