Environmental Engineering
Core Faculty Members (in CEE department)

Abboud, Nelly M.
Agrios, Alexander
Anagnostou, Emmanouil
Astitha, Marina
Bagtzoglou, Amvrossios
Chrysochoou, Maria
Clarkson, William W.
Kirchhoff, Christine J.
Li, Baikun
Lanbo, Liu
Mellor, Jonathan
Vadas, Timothy
Wang, Guiling
Wanik, David
Affiliated Faculty Members (with home Department)
| | |
| --- | --- |
| Boyer, Mark |  Polisci |
| Bronin, Sara |  Law |
| Cui, Jun-Hong |  CSE |
| McCutcheon, Jeffrey |  CMBE |
| Parnas, Richard |  CMBE |
| Shor, Leslie |  CMBE |
| Srivastava, Ranjan |  CMBE |
| Zhou, Shengli |  ECE |
Associated Faculty Members (with home Department)

| | |
| --- | --- |
| Anyah, Richard | NRE |
| Atkinson-Palombo, Carol | GEOG |
| Day-Lewis, Frederick | GSCI |
| Lane, John | GSCI |
| Noll, Kenneth M. | MCB |
| Robbins, Gary | NRE |
| Segerson, Kathleen | ECON |
| Seth, Anji | GEOG |
| Warner, Glenn S. | IWR |
| Willig, Michael R. | CESE |
| Yang, Xiusheng | NRE |
Overview
The water resources and environmental engineering group performs multidisciplinary research in the areas of surface and groundwater hydrology, land-atmosphere interactions, hydrometeorology, contaminant transport and remediation in aquatic and soil environments, watershed biogeochemistry, solar and microbial fuel cell energy production. The faculty interacts with a broader group of faculty members that are affiliated with the Environmental Engineering Program and also works closely with the Center for Environmental Science and Engineering.
Prof. Agrios's research interests are: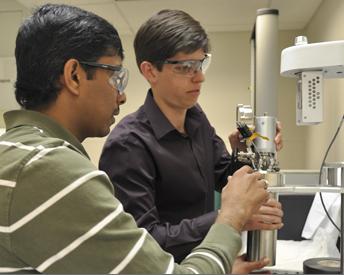 Dye-sensitized solar cells
Environmental Photocatalysis
Nanoscale semiconductors
Interfacial charge transfer
Prof. Agrios and student Venkata Manthina assemble a pressure vessel for synthesis of TiO2 nanoparticles.
Prof. Anagnostou's research interests are

Hydrologic Remote Sensing
Estimation
Mathematical Assimilation
Data assimilation in hydrologic problems
Prof. Bagtzoglou's research interests are:
Hydrology and Water Resources
Hydrologic Numerical Modeling
Geoenvironmental Engineering
Dr. Batzoglou performing some interesting in situ testing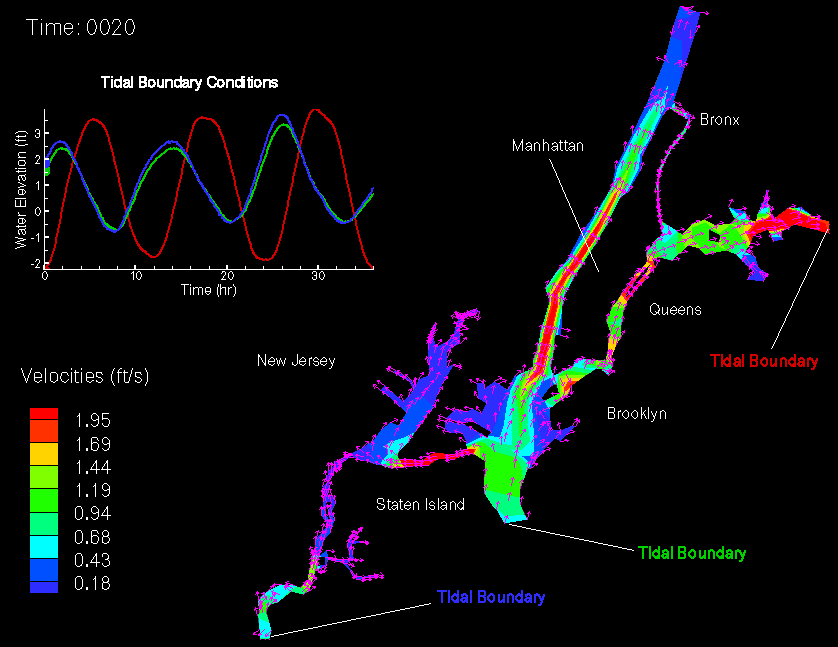 Numerical simulation of currents in the lower Hudson River around
Manhattan as a result of tidal signals
Prof. Li's research interests are: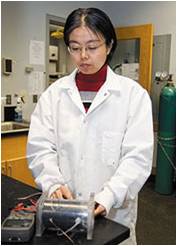 Biological hydrogen production
Molecular-scale analysis of bioadhesion
Environmental sensors
Odor and microorganisms in biosolid treatment
Prof. Vadas's research interests are:
Metal biogeochemistry
Bio-Based Remediation
Meta-organic carbon interactions
Carbon and energy modeling
Stormwater treatment and management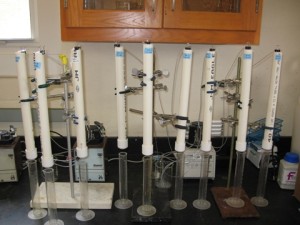 Examining changing environmental conditions on bioretention cell treatment efficiency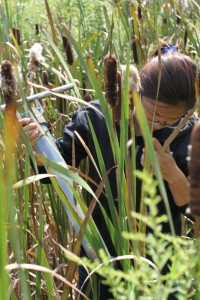 Pore water and sediment core sampling at the UConn Dairy Barn treatment wetland
Prof. Wang's research interests are: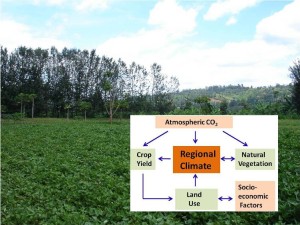 Ecohydrology
Land-atmospheric interactions
Climate change and system modeling
Ecosystem dynamics
Interactions between climate and the terrestrial ecosystem (both natural and managed) in West Africa at decadal and longer time scales. Picture shows a yam crop field in Nigeria with natural vegetation in the background.
Infrastructure
Hydraulics Lab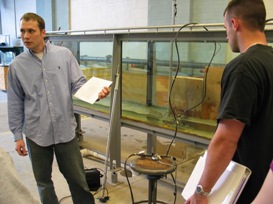 The Hydraulics Laboratory is located in room 114 of the F.L. Castleman building. The lab facilities are complete with a 4.5 m long hydraulics flume used in conjunction with a 12,000 gallon water storage tank, flow weir, Venturi apparatus, and an acoustic Doppler velocity sensor (ADV) and a rotometer. The hydraulics flume may be used for stream channel flow or engineered channels studies, as well as investigating flow through a simulated piping network.
Research Sponsors
The Water Resources and Environmental Engineering group conducts research with the support of various federal agencies, including the National Science Foundation, NASA, National Oceanic and Atmospheric Administration and the (NOAA) and the Environmental Protection Agency. The faculty also works closely together with the Connecticut Department of Environmental Protection and local authorities to address the environmental challenges facing the state. Finally, the faculty pursues close collaborations with industrial partners for technology development, such as the collaboration of Dr. Li with Fuss O' Neil in the field of microbial fuel cells.
Environmental Engineering Lab
The faculty members share a common space in Castleman 215 that houses major equipment, such as HPLC, GC/MS, AA/GF, IC, UV/VIS spectrophotometer, fluorescent microscope and others. Additionally, each faculty member has a variety of equipment in their own research space, such as ICP/MS, XRF, TOC analyzer and many others.