Structures and Applied Mechanics
Faculty members
Accorsi, Michael L.
Christenson, Richard
Epstein, Howard I.
Jang, Shinae
Kim, Jeongho
Liu, Lanbo
Malla, Ramesh B.
Motaref, Sarira
Wille, Kay
Zaghi, Arash E.
Zhang, Wei
Overview
The structures and applied mechanics group performs multi-disciplinary research in the areas of structural engineering, advanced design, structural vibrations, and others. The faculty has expertise in both structural engineering, involving the design of buildings, bridges and other structures, and applied mechanics, which forms the basis of all structural analysis and design.
The Structures and Applied Mechanics (SAM) group conducts the SAM Seminar Series.
Structural Engineering and Applied Mechanics (STAM) Technical Group Supplemental Ph.D. Guidelines
Prof. Christenson is a director of the Advanced Hazards Mitigation Laboratory. Research interests are:

Prof. Epstein's research interests are:
Block Shear in Structural Steel Connections

Structural Design Codes

Approximate Analysis

Nonlinear Structural Analysis

Earthquake Engineering

Liquid Storage Tanks; Space Frames
Prof. Jang's is a director of Smart Infrastructure Laboratory, and research interests are:
Structural Dynamics and Experimental Dynamics

Random Vibration, System Identification

Structural Health Monitoring Algorithms

Long-term Bridge Health Monitoring

Wireless Smart Sensor Technology

Finite Element Modeling and Model Updating 

Prof. Wille is director of Advanced Cementitious Materials & Composites (ACMC) Laboratory, and his research interests are:
Material Characterization of Ultra-High Performance Fiber Reinforced Concrete (UHP-FRC) under Elevated Temperature

High-Strength Pervious Concrete Pavement System with Air Purification Effect

Static and Dynamic Tensile Behavior of UHP-FRC

Nano-Engineering Ultra-High Performance Concrete with Multi-Walled Carbon Nanotubes

UHP-FRC – Influence of Fiberorientation

Ultra High Performance Concrete (UHPC) – Material Design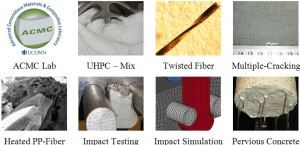 Prof. Accorsi is the director of the Center for Resilient Transportation Infrastructure (http://www.ntscoe.uconn.edu/crti/)
a DHS Center of Excellence. His research interests include:
Computational solid mechanics

Finite element methods

Composite materials

Blast loads on structures

Prof. Kim is a director of the Mechanics of Advanced Materials & Systems Laboratory, and his research interests are: 
Modeling of Advanced Composites Subjected to Blast and Impact Loads

Mechanical Durability Modeling of Solid Oxide Fuel Cells

Micromechanical Finite Element Analysis: 3D Microstructure Reconstruction

Modeling of Fatigue Crack and Delamination Growth in Hybrid Fiber Metal Laminates

Modeling of Piezoelectric Multifunctional Composites & Proton Exchange Membranes

Fracture and Damage Analysis of Functionally Graded Solids

Finite Element Modeling for Structural Health Monitoring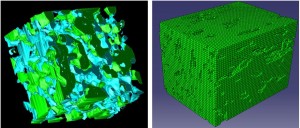 Prof. Malla's research interests are:
Theoretical and Applied Structural Mechanics

Structural Dynamics and Vibrations

Dynamic Effects of Member Failure in Trusses

Orbital and Lunar Structures

Mechanics of Granular Material Beds

Geomechanics and  Pavement Subgrades

Bridge Expansion Joints and Health Monitoring

Fiber Optic Sensor for Infrastructure

Renewable Energy Harvesting Systems (including  PEM Fuel Cells, Small-Scale Hydropower,  Structural Vibrations)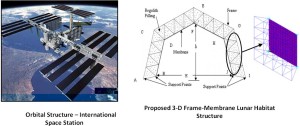 Dr. Zaghi is a member of the Advanced Hazards Mitigation Laboratory. His research interests are:
System-level testing of large-scale structural models

Resilience of structural and nonstructural systems under natural and manmade disasters

Application of advanced materials and innovative details in Accelerated Bridge Construction (ABC)

Repair and retrofit of existing bridges

Computational structural modeling
Infrastructure
1. Structures Lab (115)
The structures lab is located in room 115 of the F. L. Castleman building.
The structures lab is a high bay laboratory equipped with a in-house crane and strong floor, located in room 115 of the F. L Castleman building. The structures lab houses a variety of testing equipment including large-scale SATEC loading machines, MTS actuator for static loading tests, Split Hopkiinson Pressure Bar, Shore-western's shake table and actuators for hybrid simulation and vibration tests. Also various lab-scale experimental test-beds are developed including steel girder bridge, Pratt truss bridge, two traffic poles, and traffic signal regulator and etc, for validation of basic and advanced theory and technology.


2. Concrete Lab
The Advanced Cementitious Materials & Composites (ACMC) Laboratory (link to http://acmc.engr.uconn.edu ) is located in the rooms 106, 108, 110 of the F. L Castleman building, whereas 106 mainly serves as a teaching area, 108 comprises advanced material characterization and 110 is home for advanced material mixing.   Beside material mixing, specimen casting, preparation & curing, chemical and physical material component analysis and fresh properties characterization the ACMC Lab reaches out to the Structural Lab for mechanical material characterization in the hardened state. In addition to standardized static testing in compression, tension and bending the ACMC research group has emphasized its research effort on high strain rate and impact testing. A high speed data acquisition system, including a high speed camera, is able to run up to 1GHz and enables the investigation of material phenomena under high speed conditions. Advanced high resolution microscopy is performed at the Institute of Material Science at UConn.
3. Fiber Optics Sensor and Energy Harvesting Lab
The fiber optic sensor lab is located in room 122 in F.L. Castleman Building. The laboratory specifically is dedicated to support research on the development of sensor for monitoring of civil/transportation infrastructures. It has a host of specialized instrumentation and equipment for the fiber optic sensor research, including optical table, laser diode, pulse inverter, pulse generator, high speed photodetector, digital sampling oscilloscope, assortment of lenses, fiber posts and cleaver; and dedicated data collection system including personal computer with Labview software.

Research Sponsors
The Structural Engineering and Applied Mechanics  (STAM) Technical  group's research activities are funded by the National Science Foundation (NSF), National Aeronautics and Space Administration (NASA), Federal Highway Administration (FHWA), Department of Homeland Security (DHS), National Cooperative Highway Research Program (NCHRP), and Connecticut Department of Transportation (ConnDOT), Hamilton Sundstrand Space Systems International, Honeybee Robotics Spacecraft Mechanisms Corporation, NASA/Connecticut Space Grant Consortium, New England Transportation Consortium (NETC),  the Japan Society for the Promotion of Science (JSPS Short Term Fellowship), the University of Connecticut.